Chocolate protein cake with flower pollen
Preparation time: approx. 45 minutes plus 45 minutes baking time and cooling time overnight - Level of difficulty: advanced


Ingredients:
For the base
- 1 banana
- 150g margarine
- 200g flour
- 200ml almond milk
- 50g
Hanfprotein
or
Kürbiskernprotein
- 1 pt. baking powder
- 1 teaspoon vanilla
- 3 tbsp. baking cocoa
- 1 tbsp.
Blütenpollen
- a pinch of salt
For the cream
- 600 ml vegan cream (universal whipping cream)
- 300g chocolate (50%
Kakao
, semi-bitter)
- 1 pt. cream firm
- 1/2 tsp vanilla
- 50 g icing sugar
to garnish
- cake peaches (approx. 150g)
-
Blütenpollen
(approx. 2 tablespoons)
-
Kakao
(approx. 1 tablespoon)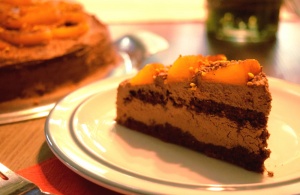 Preparation:
Preheat the oven to 160 °C convection oven. Then heat the margarine until it is liquid. Then beat the margarine with the sugar until fluffy and place in a large bowl. Put the almond milk, the banana and the hemp protein in a blender and mix finely. Add the pollen, flour, baking powder, vanilla and baking cocoa and mix together with the sugar and margarine to a smooth dough. Line the springform pan with baking paper and pour in the dough. It should now bake for about 45 minutes and then cool down for about 3 hours. Meanwhile you can prepare the chocolate cream.
For this, melt the chocolate in a water bath and mix it with 50 ml cream, the vanilla and the sugar. Add the packet of cream solids to the remaining cream and whip it. Now add the chocolate mixture and mix well.
Cut the cooled base into two or three pieces with a large knife. Spread a part of the chocolate cream on the bottom cake base and smooth it down. Place the second part of the cake base on top and also spread with chocolate cream. If necessary, do the same with the third cake base. Finally, place the cake peaches on top. It may be necessary to cut them thinner, they should rather be sliced. Now garnish the cake with pollen and sieved baking cocoa and put it in the fridge overnight.

Tip:
Universal whipping cream is soy cream and contains only 9% fat. This makes it a low-fat and vegan and therefore healthier alternative to animal cream.