Hokkaido potato gratin with sun-dried tomatoes and pumpkin seed powder

Vegan - vegetarian option: cubes of feta cheese

Preparation time: 45 minutes - Difficulty: easy
Ingredients for 2- 3 servings:
- 1 Hokkaido pumpkin
- 400 g potatoes
- 1 jar of dried tomatoes
- 2 red onions
- 2 garlic cloves
- 2-3 tbsp olive oil or oil of pickled tomatoes
- 2 tbsp pumpkin seed
protein
- 180 g vegan cheese or feta cheese
- salt, pepper, chili flakes,
turmeric
- pumpkin seeds,
nasturtium
flowers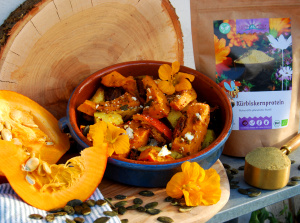 Preparation:
Wash the pumpkin with a vegetable brush, cut it in half and remove the seeds, then cut the two halves into shuttles about 2 cm wide and cut them in half again crosswise.
Also brush the potatoes well - we prepared them with skin - and cut them lengthwise into wedges.
Peel the onion and garlic and cut them into fine strips or slices. Place in a large bowl along with the squash & potato pieces and top with the jar of tomatoes with oil. If necessary, cut the tomato slices with scissors again smaller.
Now add the spices and pumpkin seed powder and mix everything well together and let marinate for about 1 hour.
Preheat oven to 180 ° convection oven, line a deep baking tray with baking paper and cut the feta cheese into cubes, or provide the vegan cheese.
After the cooking time, spread the vegetables evenly on the prepared baking tray, add the cheese of your choice and bake for about 30-45 minutes on the middle shelf. Turn in between, so that the tomatoes do not burn and 5 min before the end sprinkle a few pumpkin seeds over it.
After the baking time in a nice mold and garnish with a few fresh capuchin flowers.
They are not only a highlight for the eye, their mustardy taste gives an extra Britzel !
For this our homemade quince chutney tastes very delicious.